Andrew Jenkins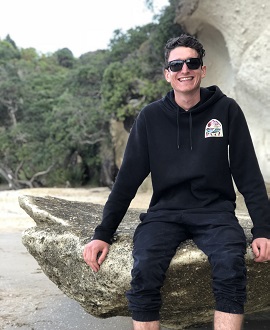 Embracing the Journey of Learning
Andrew Jenkins believes variety is the spice of life and loves that his job provides this for him. 
He says the best part about his job, and industry, is there's a lot of variety, whether you're just starting out or working your way up the career ladder – you'll have plenty to keep yourself busy with.
Andrew graduated with a New Zealand Certificate in Horticulture (Fruit Production) (Level 3) and New Zealand Certificate in Horticulture Production (Fruit Production) (Level 4) while he was working at a kiwifruit orchard in Katikati. 
While studying towards his level 4 certificate, Andrew was also awarded the top student prize at graduation, sponsored by Katikati Fruitgrowers Association. He says the award is a big boost to achieving his goals.
"I really appreciated the fact that I could work and study at the same time, as it was an easy way to gain a formal qualification without having to incur a massive debt."
Andrew went on to start his diploma in horticulture and also participated in the BOP Young Fruit Grower of the Year Competition in 2019. Although he didn't win the competition, Andrew says just participating taught him a lot and allowed him to apply everything he learned during his studies and during his work experience.
"It was an amazing and challenging experience and I'm really glad I did it, as it taught me a lot about myself and my abilities – it gave me a lot of confidence."
After the competition, Andrew was named one of Zespri's 2019 horticulture scholarship recipients and is now completing his Bachelor of Commerce at Victoria University in Wellington.
Andrew says working towards the certificate and starting his career at the same time is one of the best decisions he's made. He says it has been helpful to have the support of Seeka while he completed his certificate, and they continue to back him as he work towards his degree.
"I think while you can always work your way up, the networking opportunities and theoretical knowledge you get in the classroom can really go a long way to complement your technical skills and make your practical experience so much more robust."
Andrew says furthering his studies will set him up to apply for more senior management positions.
"I encourage anyone who is considering a formal qualification to complement their career, or even before starting a career, to just go for it.
"It'll help elevate your career and open up many opportunities in different areas that you never even knew existed."
Find out more about this subject