Trucking Success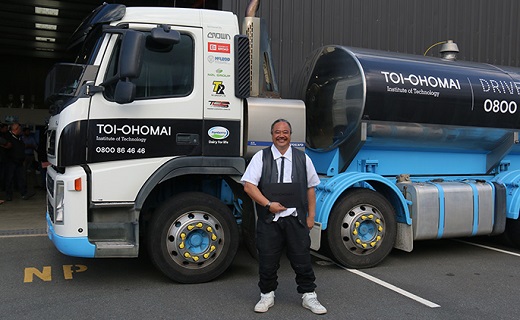 Monday, 17 Sep 2018
Students from as far as Lower Hutt and Auckland loaded up their families and hit the road in celebration of their academic achievements.
More than 40 trades and logistics students received awards at the Toi Ohomai Logistics Training Centre.
Group manager and transport and logistics tutor Adrian Bowen says he is very proud of the students' efforts.
"All of the students have either already got a job or are about to start," says Adrian, "There is a huge demand in this industry and it's good to see our students getting snapped up."
He says the transport and logistics courses provide a real, hands-on learning environment where road transport students pick up and deliver loads to the warehouse, warehousing and distribution students can unload and store goods and, to complete the cycle, consignments are released from the warehouse and delivered back to the clients.
One of this year's graduates, Ron Wawatai from Tokoroa, says his New Zealand Certificate in Commercial Road Transport has opened up new doors.
"You can't just jump in a truck and go, so through this course, I've learnt all about the safety aspects, loading and unloading and how to look after my truck," says Ron.
"This qualification is going to take me places that I wouldn't have got to otherwise.
"I've got a passion for driving - I've always wanted to drive and to be able to complete this course I can't even explain how great it feels."
Eight students received an NZ Certificate in Distribution (Level 3), three students a NZ Certificate in Supply Chain Management (Level 5), one student NZ Diploma in Supply Chain Management (Level 6), five students NZ Diploma in International Freight Logistics (Freight Forwarding) (Level 5), 10 students NZ Certificate in Commercial Road Transport (Heavy Vehicle Operator) (Level 3) and 26 students National Certificate in Goods Service (Heavy Vehicle Driver) (Level 3).
Ben Barnes won top student and Anthony August most improved.