Toi Ohomai Welcomes Culinary Arts Students From The Hawkes Bay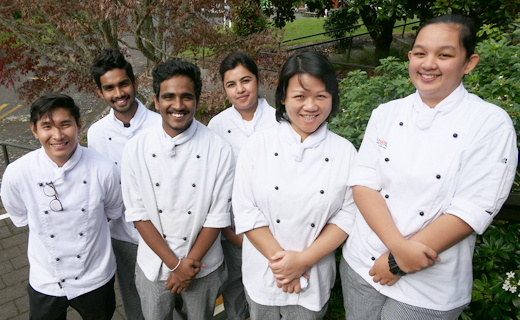 Tuesday, 05 Jun 2018
A group of international students at Toi Ohomai Institute of Technology are pleased to be settling into life in the Bay of Plenty even though it wasn't their intended destination.
The eight students were enrolled in cookery programmes with Hastings tertiary provider FutureCOL NZ that went into voluntary liquidation in March. Some had started their courses last year while others only arrived in New Zealand in February.
Toi Ohomai tutor Tik wang Tan said rather than leaving the students unable to complete their qualifications, the institute was able to step in to offer the students a place on its Culinary Arts (Level 4) course. Seven are now based at Rotorua campus and one in Tauranga.
"It has been a pleasure to be able to invite the students onto our course and have three of them as part of my class," said Tik. "They're really keen to learn and genuinely want to be here to complete the study, and their addition makes my class more diverse." 
Other students affected by the FutureCOL closure transferred to institutions in Hawkes Bay and elsewhere.
The Rotorua-based students were excited by the opportunities available in the tourist hub, and many had already found part-time hospitality work as chefs, kitchen hands and bakers while they study.
Ajay Chand, 22, from the Philippines said while it was sad to leave Hastings she was enjoying the Toi Ohomai course and being in Rotorua, especially as the city offered so many job opportunities. 
"I came to New Zealand because it was a really good opportunity for travel and to get a recognised qualification. The people here in Rotorua are great and I have found it easy to find part-time kitchen work."
Kaween Nadeera, 21, from Sri Lanka is on his first overseas experience and said he's enjoying the size of Rotorua – bigger than Hastings but not nearly as big as his home city of Colombo. 
"New Zealand qualifications are very well recognised and that's why I came here. I am learning new skills so I can return home to start my own restaurant."
Like the other students, Ajay and Kaween plan to go on to complete Culinary Arts (Level 5) to  become fully qualified chefs, and are looking forward to spending the rest of their study time here in the Bay.
While on the course they learn how to plan and prepare a range of hot, cold, savoury and sweet dishes and present them in hospitality settings on campus. 
Tutor Josephine Carson, who teaches Ajay and three of the other former FutureCOL students, said they are displaying some excellent skills and techniques in the kitchen. "So watch this space for our future star chefs." 
Caption: Some of the former FutureCOL students who are continuing their Culinary Arts studies at Toi Ohomai's Rotorua campus. From left: Kyrel Magnaye, Laziru Gamage, Kaween Nadeera, Amandeep Kaur, Sharon Hua and Ajay Chand.