Toi Ohomai Matariki Dinner Inspires Innovation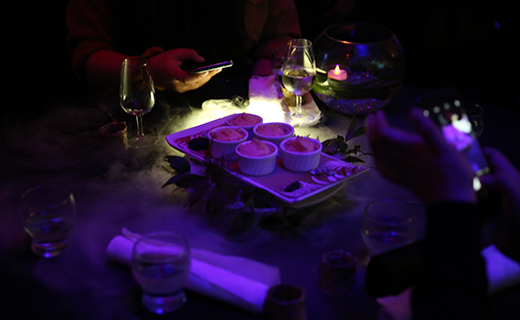 Monday, 01 Jul 2019
Kawakawa shots, smoked eel with koura foam and confit muttonbird on pumpkin rēwena bread were some of the dishes tantalising diners' taste buds at Toi Ohomai inaugural Matariki dinner.
Students from the institute cooked and served nine courses, matched with beverages provided by sponsors Volcanic Hills, Croucher, Copperhead and Good George, to 45 guests at the degustation dinner held last week at Kaiwhata Restaurant at the institute's Mokoia Campus.
Each course of the degustation dinner was inspired by the stars that make up the Matariki constellation, which rises mid-winter and marks the Māori New Year.
Hospitality tutor Roz Tocker says she came up with the idea to host the dinner as a different way of delivering lessons to students.
"I came up with this idea because it was a novel approach and a different way of teaching. I knew I wanted nine courses and nine tables to reflect the theme of Matariki, so I approached our culinary and Strategic Partnership and Māori Success teams and we collaborated to make it happen."
She says several departments contributed to the idea to make the night a real success. 
"The culinary arts team were joined by students from our hospitality courses, who provided a full service that included matching alcoholic beverages with each dish. 
"Our carpentry students made the round table tops for the dinner, electrical weighed in with the lighting, the music department provided entertainment, design students created the nine-star lanterns and facilities helped with wooden platters. The Strategic Partnerships and Māori Success provided informative sessions with the students and tutors, and marketing provided support.
"It was great and I think it encompassed all of our values, which are manaakitanga, toitūtanga, whānautanga and kaitiakitanga."
Roz says the night was a success with many of the diners enjoying the relaxed atmosphere and innovative dishes.
"I think it went exceptionally well. It was a beautiful culmination of inter-departmental collaboration. We had so many departments working together and from my point of view I think everything just flowed. The food was beautiful and the service was excellent. I am so proud of all of our students."
She says she is hopeful the event will be added to the Toi Ohomai event calendar.
"We are definitely hoping to do it again next year and it might even be bigger next time. In fact I have already had inquiries from people who attended and they want to be able to book two tables for next year."
Each course was paired with an alcoholic beverage from sponsors consisting of Good George, Volcanic Hills, Copperhead and Croucher.
Roz says the institute has a long standing relationship with Volcanic Hills and Croucher. She says Good George agreed to come on board after she approached them and she is hopeful it will be the start of a working relationship with them too.
"We like to have as much to do with the industry as we can because they are able to provide real, practical experience for our students."
Strategic Partnerships Co-ordinator Rangitiaria Tibble says research from renowned Matariki expert, Rangi Matamua, helped to inform all components of the evening including the menu, table dressings and entertainment.
"We worked collaboratively from the beginning and utilised the research of Professor Rangi Matamua to guide the way we developed the experience. Mātauranga Māori has been used to authenticate and  the experience from the get-go rather than just being used as a Māori flavour at the end.
"We really took on board the nine main stars of Matariki and how we could create an innovative experience that brought out the best, not only showcasing Mātauranga Māori, but also the skills of the students and tutors in the culinary arts and hospitality courses.
"Some people think Matauranga Māori limits you but it doesn't have to. This evening showed Matauranga Māori can inform and provide different options that leads to creativity and innovation."
She says each course was inspired by a star from the Matariki constellation and while many of the ingredients were Māori delicacies, they were cooked using innovative techniques.
"For example, the Waitī course was inspired by all food from the freshwater, so there was smoked tuna (eel), watercress jelly and koura (freshwater crayfish) foam. It was paired with a Volcanic Hills 2017 Hawkes Bay Chardonnay."