Toi Ohomai Helps EBOP Students Kickstart Business Ventures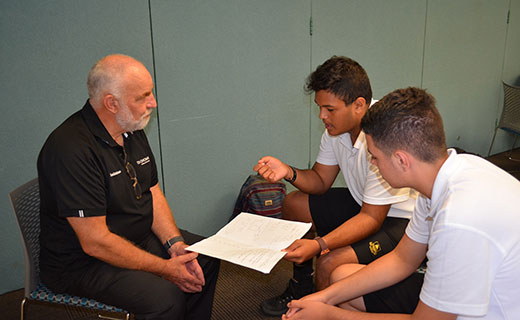 Thursday, 15 Feb 2018
Eastern Bay of Plenty high school business students put their start-up ideas into action yesterday at the 2018 Lion Foundation Young Enterprise Scheme (YES) KickStart event in Whakatāne.
Toi Ohomai Institute of Technology has taken over the regional delivery of YES in the Eastern Bay and is working closely with the EBOP Chamber of Commerce. Yesterday's KickStart event marked the first of the new YES partnership.
Year 12 and 13 students from Whakatane High School and Opotiki College gathered with local business mentors who helped the students tease out their ideas for business ventures they will establish during their Business Studies courses this year.
YES forms part of the senior Business Studies curriculum. The objective is for student groups to devise a business strategy and plan, form an enterprise, and create and sell their products – hopefully at a profit.
Toi Ohomai Head of Youth and Community Engagement Olivia Dhanjee said being involved in YES is an opportunity for the Institute to partner with local schools and the business community.
"The Lion Foundation Young Enterprise Scheme is a brilliant way for students to learn what's involved in setting up and running a business and we applaud the work that goes into making this happen every year. We look forward to working with YES, the schools and the business mentors to help these students realise their goals, and hopefully one day bring their expertise into the workplace."
During the year Toi Ohomai will support schools to deliver the programme and will coordinate regional events each term including The Pitch – where groups pitch their ideas to a judging panel – and a trade fair and product display, before the regional finals in October.
Toi Ohomai Youth and Community Engagement Leader for EBOP Greg Brimmer is the new regional YES coordinator. He said the partnership offers another way for Toi Ohomai to support the country's future entrepreneurs.
"The YES programme is a valuable stepping stone into our NZ Diploma of Business and we're delighted to be able to help school students in our region get hands-on business skills and develop their ideas into viable business ventures."
"It's great to see these young people passionate about their ideas and enthusiastically discussing them with mentors."
Head of YES Dr Colin Kennedy commented on the partnership. "We're really excited to have Toi Ohomai on board. Their expertise in business and focus on innovation makes us confident that they will support and inspire our students throughout their YES journey."
National Excellence Award winners travel to Wellington in December to represent their school and region in the national final.
[Photo caption] Toi Ohomai Youth and Community Engagement Leader for EBOP and Regional YES Coordinator Greg Brimmer works with Whakatane High School students on their business idea.