Toi Ohomai Focuses on Sustainability at Winter Festival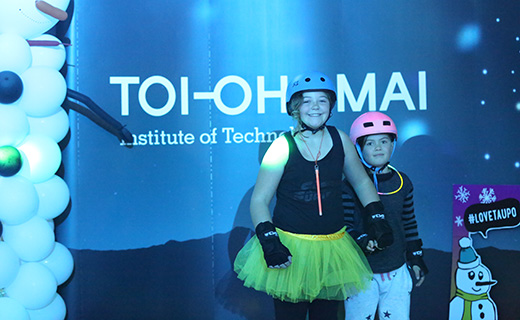 Wednesday, 10 Jul 2019
With an ongoing focus on sustainability, Toi Ohomai Institute of Technology will be at the Taupō Winter Festival this week handing out free hot chocolates in reusable cups in a bid to limit waste going to the landfill.
Sustainability is a key part of the strategic intent for Toi Ohomai and Head of Marketing and Communications Jess Barnett says when the Institute decided to sponsor the event for the second year in a row, it was important to continue the drive towards achieving their environmental goals.
"We'll be in the Tongariro North Domain handing out free hot chocolates in conjunction with takeaway cup specialists One Cup to ensure there are less cups going into landfill. One Cup are providing us with 1000 cups where the public pay a $2 deposit for the cup that can be taken to any One Cup partnering café to be re-used."
Jess says the Institute will also be hosting the Toi Ohomai Roller Disco at the Great Lake Centre Hall on Sunday afternoon and evening.
"We're turning the hall in to a roller skating rink! So come and rent some skates from us, or bring your own, and show us your moves."
The disco starts at 2pm and is open to all children under 10 until 5pm, from then all ages are welcome until 7pm. From 7pm until 10pm, entry will only for those over 13. Admission is $10 for 45 minutes with rented skates or $5 for unlimited skating with your own skates.
Jess says the Institute supports the festival because it's an excellent event for Taupō and a great way for Toi Ohomai to get more involved at a community level. 
The festival, which began last week, consists of 32 events over 10 days, including 16 that are free to attend, and Jess says so there is likely to be something for everyone. 
"For the children, and kids at heart, check out the ice rink, a giant inflatable snow globe with powder directly from neighbouring Mount Ruapehu. Tongariro North Domain transforms into a fun zone of activities including a 35m long inflatable obstacle course, community art projects, bubble soccer, live music, free hot chocolates and much more."