Toi Ohomai Community Day Success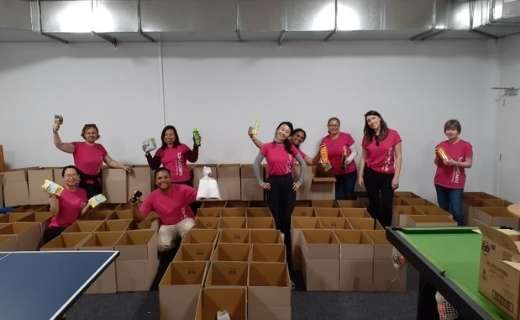 Tuesday, 27 Oct 2020
What a year 2020 has been! The COVID-19 pandemic has had a huge effect on the Bay of Plenty community and what better way to give back than to dedicate the Toi Ohomai Community Day 2020 to those hit hardest during the pandemic.
The inaugural Toi Ohomai Community Day took place on Thursday, 22 October, and was a great opportunity for staff to get out in the community and contribute their time to organisations or services to those in need.
The purpose was to show our appreciation, help out others, donate our time, and share the Toi Ohomai values our staff strive to uphold.
Teams from across the organisation went out and about into their various communities to give back to people and organisations who have been hit the hardest.  
Teams helped pack food parcels, cooked BBQs, provide morning tea, helped with maintenance at various organisations and tried to put a smile on the faces of those essential workers.
It wasn't just Toi Ohomai staff taking part in Community Day, many students joined the kaupapa.
The Level 4 Baking students from the Mokoia Campus, made and delivered more than 260 assorted Danishes to thank essential workers at Rotorua Fire Station, Rotorua Police Station, Western Heights Primary School and Kidzworld Childcare Centre.
The Tourism and Hospitality team helped with a trail maintenance 'Working Bee' of the Tikitapu Loop trail, Whakarewarewa Forest, Rotorua.
Toi Ohomai tourism students and tutors worked together to ensure this 5.5km loop trail was looking sharp.
A team went to Rotorua tourism attraction Hells Gate to help them prepare for their reopening after they shut their doors during the first Level 4 lockdown.
Hundreds of native plants were planted, gardens mulched and weeded, lawns mowed, windows cleaned and shelves were stacked.
Toi Ohomai Events and Engagement Manager Megan Wheeler said the scope of Community Day meant a wide range of organisations were able to benefit from our staff lending them a helping hand.
"It's been great to get into the community and help out so many deserving organisations. COVID-19 has had a huge impact on our community and sometimes just giving your time to help an organisation is just as good, or even more helpful as a monetary donation.
"We are very lucky that Toi Ohomai supports this kaupapa and we were able to make a difference to various organisations across the whole Bay of Plenty."
In Tauranga, activities included baking for the Greerton Fire Station, picking up rubbish on Mauao, ground maintenance at Riding for the Disabled and packing food parcels at Tauranga Foodbank.
Good Neighbour is not only a huge supporter in the community, but they provide the Windermere students with an average of 500kg of free food every week, so two teams spent the day there, one put on a hāngi while the carpentry team helped relocate tunnel houses.
Toi Ohomai Faculty Dean, Primary Industries and Infrastructure, Brian Dillon said he was aware of the work Good Neighbour did in the community and knew they wanted some help with some projects.
"The day went really well. We brought along our building skills and were able to help them tick off a job they had been wanting to achieve."
He said the tunnel houses will grow seedlings before they are planted in the community garden.
"We've also identified some opportunities to connect them with our Horticulture team to see if we can help propagate seedlings for them."
Mr Dillon said the principles behind Community Day aligned with Toi Ohomai values and of those of many community organisations.
"Hopefully we can create a groundswell of awareness and in the community and in turn we should be able to create a bank of opportunities for us to get involved with."
A gallery of images can be seen here.