Synchro Swimmer Sets Sights on 2024 Olympics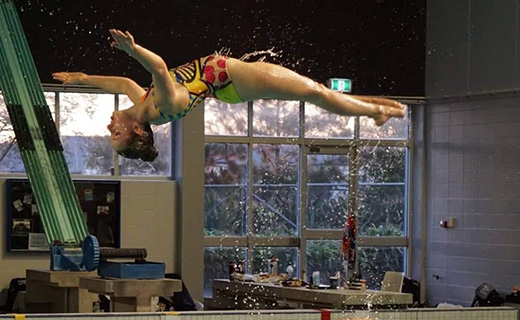 Wednesday, 03 Jul 2019
Tauranga synchronised swimmer Isobel Pettit has had to juggle training for the World Aquatics Championship with her studies at Toi Ohomai, but she isn't letting it overwhelm her. 
In fact, she has set herself a new goal – to represent New Zealand in synchronised swimming at the 2024 Olympics.
It won't be easy, but Isobel says it's not impossible because she knows what's possible with hard work. 
"We have never sent a team to the Olympics before and I think it would be cool to be in the first team to go. New Zealand would have to beat Australia to qualify for the Olympics and they have a very experienced team so it won't be easy, but I am sure we can do it, if we work hard."
A strong swimmer, Isobel made the national team after being a synchronised swimmer for only seven years. 
"I was at Baywave swimming with my friends and we saw some girls doing synchronised swimming. Afterwards one of the mothers approached us and said we could come and give it a go. Two of us started but I was the only that kept going."
Last week, Isobel was at a training camp with her national team-mates preparing for the FINA World Championships in Korea this month. 
Isobel says the team is an inexperienced one, with only one of them having competed at the world championships before. 
She says they've also only been able to have four team trainings, including this week's camp, in the lead up to the world championships because they all live in different locations across New Zealand.
"We've all been sent a training schedule so hopefully everyone is following that and we should all be on the same page."
She's also had to juggle the training programme with her studies. Isobel is studying towards the New Zealand Diploma in Environmental Management (Marine Strand) and eventually plans to complete a Bachelor of Science.
She says she loves being in the water and would love a job that allows her to work in that environment.
"I am not really sure what I want to do in the future but I love the ocean and the water so I would love to be able to do that."