Students Celebrate Success During Regional Graduation Week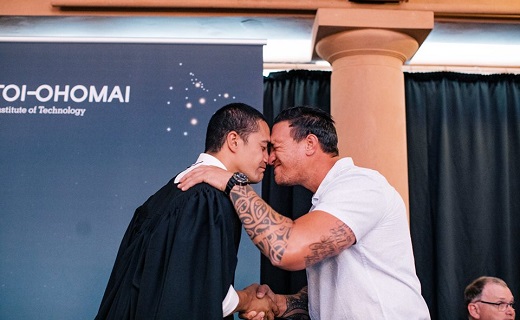 Tuesday, 18 Dec 2018
More than 1800 students from Toi Ohomai graduated across the Bay of Plenty region from Monday, 10 December to Friday, 14 December 2018.
The students' achievements were celebrated in eight ceremonies throughout our five locations, joining more than 5600 students who completed qualifications at the Institute in 2018.
"It was one of the best years of my life," said Daniel Reyland, who graduated with a Cert4Fitness (Level 4) qualification. 
"I enrolled for this course because I wanted to push myself and get stronger, but ended up finding a family and a group of lifelong friends – it's been amazing."
Daniel works for Fulton Hogan in Tauranga and will continue his career in 2019. 
Students were encouraged to embrace life's challenges with gusto and wished every success by guest speakers at each event, including Nigel Tutt, Chief Executive of Priority One (Tauranga), Bryce Heard, Acting CE and Board Member of the Rotorua Chamber of Commerce (Rotorua), Catie Noble, President of the Taupō Chamber of Commerce (Taupō), Mayor Jenny Shattock (Tokoroa) and Brian Dillon, Faculty Lead, Trades & Logistics (Whakatāne).
"You've taken a step up the ladder of life," said Bryce Heard. "He tangata, he tangata, he tangata – it's all about people." And remember, the most important thing, which you'll realise when you retire – is whānau, friends and yourself."
A large number of international students also made their mark across the rohe. Dhruvkumar (Dhruv) Dharmendrabhai Patel graduated with a New Zealand Diploma in Electrical Engineering (Level 6), said that his family would have loved to celebrate the special occasion with him, but were not able to make it in time. 
"They are very proud – I'm so happy to graduate and that my hard work has paid off. It's all very exciting and I hope to continue my bachelor degree next year."
Graduation marks a time when success is celebrated and various students were also awarded prizes for excellence in their chosen subject at each ceremony. 
Arikatu (Ari) Robens was awarded the Howie Hinton All-Round Achievement Cup at the Tuesday ceremony in Tauranga. Ari graduated along with his brother, Tamati Robens, and his partner, Danielle Fox, with a Bachelor of Sport and Recreation. The trio were gifted korowai that were handmade by their mother, especially for this momentous occasion.