Skills Shortage Grows Forestry Student Numbers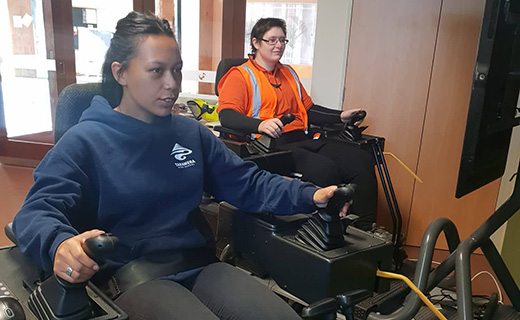 Thursday, 28 Feb 2019
With a shortage of qualified forestry workers, a record number of students have signed up to Toi Ohomai Institute of Technology's latest woodsman course.
Forestry Operations Programme Manager Richard Stringfellow says the current cohort, which started in January, is the largest ever. He says Toi Ohomai will provide the New Zealand Certificate in Forest Harvesting Operations (Level 3) - Woodsman course, which runs for 21 weeks, again throughout the year and he expects the demand to grow. 
"The course is only offered at our Mokoia Campus and we had 10 students sign up to do it before Christmas. On the first day, all 10 students turned up and even though 70 per cent of them had been living outside of Rotorua, they chose to move here to study.
"The course is highly rated by the industry and students because there is a focus on machine operating and quality control, which are skills that are highly valued."
The forestry workforce is an ageing one and Richard says there is a focus is to bring through the next generation.
He says the shortage of workers means employers are looking for people who have the right attitude because they can ensure they receive the necessary training.
We work with many large companies and train their new employees so they can operate safely and efficiently when they get out there. In fact, [forestry companies] Rayonier and Timberlands are supporting contractors to get workers trained so they're skilled and safe on site. 
"Alternatively, those students who are not yet employed know our graduates are highly regarded by the industry so want to study with us due to the employment prospects. Once they're qualified it won't take them long to find jobs and we can make introductions with employers due to our great networks in the industry."
The Institute has several simulators, which allow students to learn how to operate machinery in the classroom.
"Once they get out there, these guys and girls are operating machines so it's good for them to build the muscle memory. With the simulators, they get to practice their skills in the classroom and get used to the controls before they get out there for real.
"The simulators are top-of-the-range and so provide a realistic experience for the students learn from. These kids come with some muscle memory already because a lot of them have been playing computer games since they were little. If they have been playing games, they're used to using controls and developing muscle memory so they're usually naturals on the machine."
He says there are plenty of jobs out in the industry.,  
"It's an enjoyable job, especially for those who enjoy working outdoors."
Richard says this trimester includes students from a range of backgrounds.
Sharee Fleming is a single-mum from Taupō. She says after injuring her shoulder she could no longer work in the dairy industry.
"I wanted something just as challenging but wasn't going to strain my shoulder and so I thought about forestry. I'm so glad I signed up to do this course, I'm loving it. For me, it's a challenge and I prefer to work in a male-dominated industry.
"I spent 19 years in the dairy farming sector and I grew up with three brothers and I am a single mum to two boys, so I feel most at ease around males."
Growing up in Kawerau, Jasmine Thornton says a lot of her family work in the forestry sector and she wanted to join them in the bush.
She says she moved to Rotorua to do the course and is hoping to get a job in the Bay of Plenty.
"I like the outdoors environment and I could never work in an office so I thought that this was the best option for me. I really enjoy the course because I'm learning skills that will help me get the job I want.
"I have to go and look for a job but it shouldn't be too hard with this course and because there is a such a shortage of qualified forestry workers. I'm hoping to find a job in the Bay of Plenty, but if I have to move then I'll do that."
Jayden Pye is employed by a forestry company and they are supporting him to do the course. He relocated from Napier and says he's enjoying the course so far.
"I had been working for a few a months but I'm learning so much from the course. I can't wait to finish and get out there to use my skills.
"I really enjoy getting out on sites and working in the industry."
Tauranga's Dallas Avis is also attending the course with the support of his employer.
"I've spent a bit of time out on sites but the simulators are so good especially for those who haven't been out there yet. You get to try things without the risk."