Northern Hemisphere Work Exchanges Planned for Forestry Students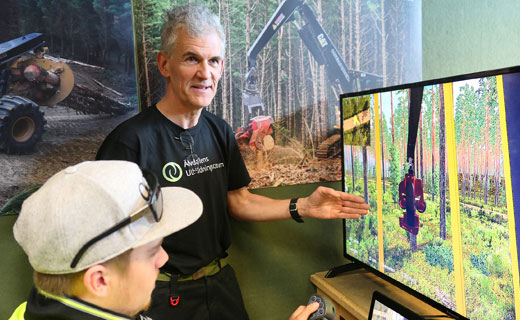 Thursday, 05 Apr 2018
A new exchange programme between Kiwi and Scandinavian forestry students could be one step closer following a visit by a Swedish forestry expert.
In his first visit to New Zealand, forestry educator Anders Öberg was hosted by Toi Ohomai Institute of Technology's forestry team at its Rotorua campus. His purpose was to learn more about how forest harvesting is carried out in this country and explore opportunities for students from both countries to do workplace exchanges. 
"How you manage forest harvesting in New Zealand is very different to Sweden," he says. "By spending time here, our students would be able to learn new ideas and techniques that would be useful to employers back home.  We also want to promote this career, and the opportunity to visit New Zealand would certainly be attractive for our students."
During his time in New Zealand Mr Öberg visited harvesting crews in action near Rotorua to get first-hand experience of the scale of forestry operations here and the often challenging hilly terrain they work in. It's a vastly different scenario in Sweden, he says, where mainly flat forestry plantations and much smaller trees – 20 years of growth here could take 100 years in Sweden – require a different scale of operation. 
"In Sweden we have a crew of only two people operating harvesting machines compared to the seven or eight-person crews and much bigger machines needed here." 
Likewise, New Zealand can learn more about automation from the Swedes, such as using just one machine for a multitude of functions. A lot is still done manually here, says Toi Ohomai forestry team leader Richard Stringfellow.
"Globally, the whole forestry industry is working together so it would be really beneficial for students to visit harvesting operations in other parts of the world. The broader the knowledge we have from other countries, the more it will help every operation," he says. 
Using simulators to teach machine operation is an example of the knowledge exchange between the two countries. Sweden began training students via simulators 16 years ago and in 2016 Mr Stringfellow visited Sweden and brought the concept back to Toi Ohomai. Now tech-savvy forestry students can get highly sought-after training in machine operation before joining a forestry crew, or while they're working. 
"There's a perception that forest harvesting work is manual labour and low skilled but, with the right skills, harvesters these days could be operating a highly complex machine worth over a million dollars. They're making important decisions to ensure the best harvesting result for the customer. These kinds of skills can also take them into higher level management careers in roading, ports, as well as forestry," he says.
Mr Oberg, who teaches at Älvdalen Utbildningscentrum in the middle of Sweden, plans to seek funding for an exchange programme with forestry organisations back in Sweden, and the two teaching institutes hope to initiate student placements in the near future.
Photo Caption: Swedish forestry tutor Anders Öberg shows student Bradley Solomon, 18, new functions on one of Toi Ohomai's harvesting simulators. Bradley is taking a three-month course in Basic Machine Operation before returning to his harvesting crew in Gisborne.