New Chief Executive, Dr Leon Fourie talks focus, family, and future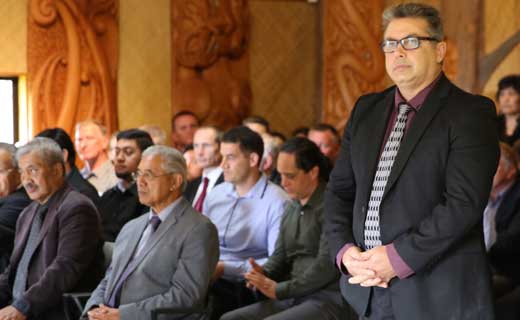 Tuesday, 13 Dec 2016
Yesterday may have been a tale of two cities for new Toi Ohomai Institute of Technology Chief Executive, Dr Leon Fourie, however the former Deputy Chief Executive of Unitec Institute of Technology is clear that it is the region as a whole that is his focus. 
Joined by his family at two pōhiri, (Pomare Marae in Tauranga, and Tangatarua Marae in Rotorua), we talked with Dr Fourie about direction, challenges, and the welcome to the institute he and his whānau had received.
"Coming through a marae always feels like the front door of an organisation doesn't it? A marae is the heart of any organisation. It tells you about the spirit of the people who live and work there.
"I found today very, very welcoming and pleasing. It has been wonderful. I could see the look on my family's faces and they really enjoyed being welcomed into the Toi Ohomai family."
Appreciative that many of his 'Unitec whānau' travelled from Auckland to be part of the day's ceremonies, Dr Fourie highlighted the sense of connectivity he saw in both Unitec and Toi Ohomai being home to marae with carvings by noted master craftsman, Lyonel Grant.
Having already embraced his role within New Zealand's third largest institute of technology, he is clear about the challenges at hand and what is needed to confront them in 2017.
"Whatever is good for Māori is good for everyone. There's our focus. It has advantages for everyone," he says.
"This region being rich in resources, yet high in educational disparity is absolutely a key issue for Toi Ohomai. I think that we are strong in the main population centres - and we will continue to be strong and work with other education providers in that space - but the fact is as the region's sole institute of technology, we have a responsibility to the whole area to use our reach to actually reach those smaller communities.
"However, it's not just about establishing community-based learning or delivery centres. It's about how we connect back to schools. What do our relationships look like there? How do we bring in school aged learners, in particular from decile 1-3 schools?
"22 out of 33 schools in our region are low decile schools. So we need to connect with them and see that pathway through to tertiary education, where we can support them and from there start them into a job."
-----------------------------------------------------------------------
DR LEON FOURIE'S MAIDEN SPEECH TRANSCRIPT
-----------------------------------------------------------------------
E ngā tūpoupou rangatira o Ngati Whakaue kua tae (kotai) tinana mai. Ngā mihi maioha kia koutou katoa
To the chiefly elders of Ngati Whakaue who are present en mass I greet thee all affectionately
E aku rangatira o te kaunihera Tēnā anō koutou katoa
To my leaders of the Council I greet you all again.
Ki te mārea whānui Karanga mai! karanga mai! mihi mai!
To our worthy hosts Call unto us! Call unto us! Greeting unto us!
Inaianei hoki he tino hōnore mōku ki te tūtaki anō ki a koutou, me o koutou nei whanau kei Rotorua.
And now it is indeed a honour for me to meet with you and the rest of your whanau here in Rotorua.
Te whare e tū nei, tēnā koe
The house that stands before us I greet thee
Te papa i waho Tēnā koe!
The land out front I greet thee
Ngā tini mate huhua o te wā. Haere atu rā koutou, haere, haere!
To the many bereavements of our time, farewell, depart, go!
A tātou nei tini hīkoiranga kua (ko) rīpekatia i tēnei wā whakahirahira
To our journeys that intersect at this important moment in time
Kua tīmata rā te wāhanga hou
Indeed a new chapter has commenced
Toi Ohomai – our name has deep meaning - 'aspiring to and achieving great heights' and 'to be awakened and inspired through our learning, to positively transform our world and to remember where we come from', and has connection to the ancient name for Te Arawa – Ngati Ohomairangi – which then directly and symbolically connects this institution with a deep rooted educational responsibility to the wider Bay of Plenty region. 
Our region has many positive attributes, including proximity to three large population centres, a strong resource base, diverse industry, well-developed infrastructure, a growing population, and a rich cultural heritage.
However, we face a number of educational challenges – Within the wider Bay of Plenty region there is considerable latent demand for tertiary education. Rates of participation in tertiary education and overall educational achievement fall below the national average, especially among priority groups. An estimated 1,000 of our Youth are Not in Employment, Education or Training in the region and 50% of Māori school leavers do not achieve level 2 NCEA.  Also, there are a number priority learning areas required to fuel growth in the wider Bay of Plenty region including building capability in STEM programmes.
Our commitment to the educational and employment success, particularly for Māori and Pacific Islanders demand that we work in close partnership with Iwi and other stakeholders, including schools and other education providers, industry, local Government and community.
We are now all collectively responsible for writing the first chapters in Toi Ohomai's journey.  We can only achieve success if we let go of the past, and focus our collective energies on the future  - by building on the successes of the legacy institutions, but doing so as one institution with one purpose and one value system that enables us to make a difference in people's lives through innovating, partnering, inspiring, and being a welcoming place where everyone can succeed.
As the only institute of technology in the region we have the advantage of reach in the region and a strong, unified resource base that can be directed towards rural communities across the region - to establish new community based delivery sites, creating easier access to education, that is aligned to job outcomes, and play our role in addressing regional GDP disparity.
Kōtahi anake tōku nei whakaaro. Kia mahi ngātahi ai tātou
I have but one central thought, of working together as one
'Ka tika ngā mahi mo ngai Māori, ka tika mo te katoa'
If what we do is good for Māori, then surely it must be good for everyone!
Tēnā koutou! Tēnā koutou! Tēnā tātou katoa!
Greetings to you! Greetings to you! Greetings to you all!