Local Industry Sees Apprenticeship Training as a Cut Above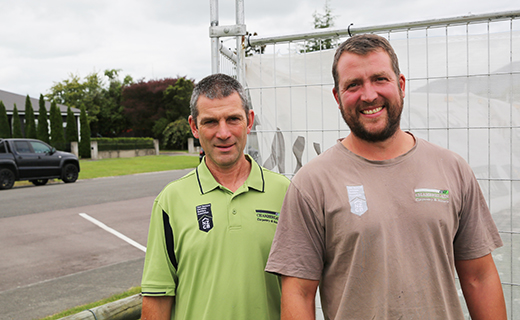 Monday, 09 Apr 2018
"It's a great time to be in carpentry in Taupo at the moment, but we just can't find enough builders," says Ian Chamberlain of Chamberlain Carpentry and Joinery.
As one of Taupō's most established construction companies, Ian is proud to be one of the local building businesses working with Toi Ohomai Institute of Technology's Taupō-based carpentry training programmes, in order to grow the skills needed to meet the rising demand.
"I really value my industry and have employed three students off Toi Ohomai's pre-trade New Zealand Certificate in Construction Trade Skills (Level 3).
"Once they have completed that, I have put them through the ITAB (Industry Training Association Building) Level 4 course that Toi Ohomai facilitates right here on our doorstep.
"By putting more trainees and apprentices through Toi Ohomai and getting more qualified people, the better our industry is going to be."
One of Ian's three Toi Ohomai graduates, Kieron Sloan, says having finished both stages of the training scheme, he is now excited by the opportunities construction offers him and his family.
"The pre-trade course at Toi Ohomai was great in that it opened doors and gave me a bit more experience and knowledge than other people looking for apprenticeships. 
"That qualification is peace of mind for employers because it shows you are at a certain standard before you walk on site. You've learnt site safety and terminology, so you aren't completely green."
UK-born, Kieron says he was attracted to building by the fact the trade would offer him work wherever in the world his family travelled, the skills to help with his family's renovation needs, and the ability to work with his hands in creating something that wasn't there before.
"Being a builder is fantastic. It is good to get outdoors, work as part of a team and actually stand back at the end of the day and see what you've achieved.
"With Ian, I have worked on quite a few beautiful new builds and done a lot of renovation work, which I really enjoy. From kitchens to furniture, I've luckily been given a great variety of work to do."
With the rise of passive houses, sustainable technology and the greener 'carbon footprint' way of building homes, both men see carpentry as a rapidly changing industry. Stating that construction work can lead on to other rewarding roles, such as project management or quantity surveying, Ian has strong advice for all aspiring tradies.
"People will always need builders to build or maintain houses, and construction offers plenty of progression and opportunity to build your way up the ladder. There's no better time to make a career change than now."