Jacob Matekino – E-We solution to housing crisis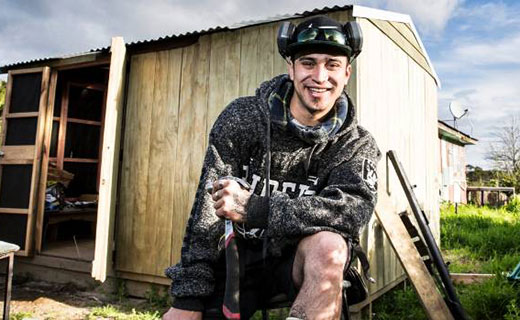 Tuesday, 19 Sep 2017
UPDATE: Jacob Matekino has been recognised for his below work and his involvement in Toi Ohomai's National Science Challenge research project, with a Certificate of Achievement in the 2018 Kiwibank New Zealander of the Year awards.
[abridged]
Fed up with watching his baby daughter get sick in their cold, mouldy rental, Toi Ohomai student Jacob Matekino decided to do something about it. So the steel worker decided to learn how to build his own affordable, warm, and eco-friendly home.
Matekino took up a Bachelor of Creative Technologies course at Rotorua's Toi Ohomai Institute of Technology, and his partner learnt carpentry. Together they built their own home – for $4200. His tiny house, and broader vision for 21st century Māori housing developments, which he calls "E-WE", has caught the attention of social housing minister Amy Adams, and Matekino believes his idea could ease New Zealand's housing crisis. 
For Matekino, being able to house his family in a home of their own represents a major turnaround. Prior to studying to become a designer, life was testing, to say the least. The 24-year-old's damp rental was not only affecting his family's physical health, but his mental state was also taking a battering. He had so much time off to look after his partner and 2-year-old daughter Kyra Lauagiagi-Matekino that he was falling behind in his studies.  
Last winter, Matekino's circumstances took a dive, and he wound up, briefly, on the street. He spent a few nights sleeping rough in Rotorua's thermal Kuirau Park, where the steam offered a bit of warmth.  
"We were having dramas at home, and I wanted to get away, but didn't know who to turn to. I went to the street because it was the easiest option," he says.
It took an intervention from his cousin to make Matekino realise that he was actually one of the fortunate ones.
"He took me for a ride into Auckland, and showed me all the people who were really struggling – it wasn't a choice for them. I knew what I was capable of, and it just made me think, you know? I wanted to put my time to good use."  
What Matekino saw is becoming all too common. According to a Yale University report, New Zealand has the highest proportion of homeless people in the 34-member OECD, with nearly 1 per cent of the country's population living on the streets or in emergency housing or shelters.  
Spurred on by the dark reality of what he witnessed, Matekino continued to learn the basics of interior and spatial design, architecture, and installation – all the while battling health issues.
"We just kept working towards our plan; saving money and getting the tools and everything we needed."  
Alongside his tiny house build, Matekino also had a bigger picture in mind.  He envisaged a contemporary take on a traditional Māori pa, based on papakainga (a form of housing development for Māori on ancestral land) – but with a stronger focus on communal living, affordability, sustainability and social behaviour. He called the concept E-WE.
Fast forward to early 2017, and the first part of Matekino's dream became reality – he moved his family into their self-built, 10 square-metre house, on his mother's land. The bedroom fits the couple's bed and a cot and is partitioned off from a composting toilet (no plumbing required), shower and a little stove. It has a rainwater harvesting system – which the shower runs off, and a grey-water tank. The waste from the toilet is used as fertiliser for the garden. It's warm, dry – and Matekino says his daughter hasn't been sick since. With help from friends, it cost him just $4,200 – far cheaper, albeit more modest, than many other tiny houses on the market - some of which exceed $100,000.
This year, Matekino had the opportunity to present his E-WE concept to a panel at a Dragon's Den-style contest at Toi Ohomai. He spent about fifteen minutes revealing his vision and left the judges stunned.
"Their eyes were wide open, jaws dropped – they didn't really know what to say," says Matekino. 
"They told me to take a seat while they collected themselves, and put together their questions."
So what does E-WE look like? Think Hobbiton, with a Māori twist. "You'd have the little-gabled roofs, like the whare, plotted along the hills."
The homes would vary in sizes, starting from 10 square metres, and occupants would utilise communal facilities. Each of the houses would have a greenhouse to grow vegetables all year around, and the use of solar panels would gear the communities up to be "net positive" – generating more power than they consume and putting it back into the grid.
The innovation doesn't stop there. The homes would be made from Hempcrete – one of the greenest building resources on the planet. It's made from a mix of hemp fibre, lime and water, and is extremely durable. Hempcrete also helps remove carbon from the atmosphere, provides natural insulation, is fire-resistant, and non-toxic.  
While hemp crops are grown locally, hemp shiv – the woody core of the plant, must be imported from overseas as New Zealand lacks the specialist equipment for harvesting and processing.  
Matekino is confident each tiny house could be still be built for around $10,000. He cites potential funding sources as Māori Land Trusts set up through the Waitangi Tribunal and local councils.
"It would be a matter of having the right design, and talking to the right people." 
Someone vowing to help get Matekino in front of those people is Daiman Otto. He's the director of Tall Wood – an Auckland-based building company focused on affordability and sustainability.
Otto was part of the panel tasked with critiquing the students' presentations, and was so impressed with Matekino's plan – he offered him an internship. Otto knew Matekino would be a great fit for his company.
"The fact that he'd gone out and actually built something to improve his life and his daughter's life and his partner's life, to me that's everything."  
Tall Wood's begun assisting Matekino with the practicalities of his concept, while Matekino's helping oversee and advise on Tall Wood's own papakainga projects. Otto's first piece of advice to Matekino was to trademark the name E-WE.
"It's got great branding, and I think that's what's clever about it as well.  He's wrapped it up in this concept which is easy to understand. The brand – the story – is right there."  
Otto thinks there's a massive potential for papakainga-type development across New Zealand, along with the concept of "self-build" – working with a system to literally, build your own house.  
"When you're tackling affordability, it's not just about making buildings cheaper. You have to look at everything in the chain, and chip away at every part of that.  
"Where Jacob's coming from – in self-building his own tiny house – it's about taking action and actually being pro-active."  
Otto thinks E-WE is absolutely achievable, pointing out that the tiny houses in the concept wouldn't even necessarily require building consents. If a building is 10 square metres or less and doesn't contain cooking or sanitary facilities – you're pretty much free to plonk it where you please, bar a few minor technicalities.
"If you've got the social infrastructure and sanitary infrastructure in place, then the E-WE concept about those individual sleeping quarters becomes something that you can add on, as scale and requirements dictate ... there's nothing fundamentally risky about this."
Otto sees the way that E-WE adheres to the traditional way of Māori life as a bit of a "hack" of the system. "There's a real shift, a real desire for change in how we build affordable housing. I think Jacob's tapped into something that's just below the surface, and about to crack open".
For now, Matekino's commuting every fortnight to Auckland to work with Tall Wood – while continuing his studies with Toi Ohomai.  
As the concept grows, so do Matekino's aspirations. He now has his sights set on completing a masters in some form of design or architecture, while getting E-WE off the ground.  
To those who may question whether tiny house living is the answer to the homeless plight, Matekino is firm in his belief that it's a far more favourable option than living in a car or under a bridge.
His message to those in that situation is – don't give up. "There are people out there like us who are working towards giving you a home." 
For the full story, read it here on Stuff or watch the interview with Jacob.