It Researchers Shine at Toi Ohomai Summer Showcase Event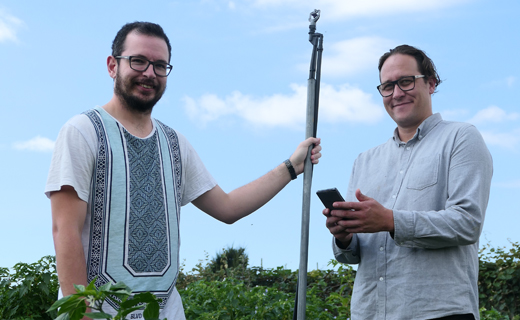 Friday, 06 Apr 2018
A remote-controlled sensor to monitor orchard irrigation systems via the internet has launched a Toi Ohomai IT student and former graduate into the spotlight.
Jacob Van Silfhout and Sam Gough's presentation about their summer research project earnt them first place at the Institute's Summer Scholarship Snapshot event. The pair worked with IT company Sensum IoT to develop software that allows mobile devices to access real time data from a soil sensor probe, via the internet. 
Growers and orchard managers can check the temperature and moisture content of crop soils from anywhere, and program the sensor to operate automatically to ensure optimal growing conditions. It is an example of how The Internet of Things is connecting electronic appliances and devices to the internet to allow for remote monitoring. 
As well as developing the internet part of the system (web dashboard) the students implemented the actual sensors and irrigation system at the horticultural department of Toi Ohomai's Windermere campus, where Toi Ohomai horticulture programme manager Steven Webb said the new system is making a huge difference because all monitoring was previously done manually. 
"Now we can get precise daily measurements in a format that can be exported or used for graphing. It's really good for our students to see how high tech the primary industry is becoming and to have access to it right here," he said.
The SenProbe moisture and temperature sensor is now being marketed by the company and is aimed primarily at the agricultural industry with many other applications as well.
Sam Gough is currently studying his Level 6 Diploma in Information Technology at Toi Ohomai and plans to pathway into his Bachelor of Science in Applied Computing at the University of Waikato in Tauranga. Jacob graduated with his degree last year and is now teaching in the IT department at Toi Ohomai. The pair carried out their research and developed the software during their summer break. 
Toi Ohomai head of research Dr Heather Hamerton said 14 students were involved with research projects this summer, with most working with external organisations across the Bay of Plenty. The showcase event was an opportunity for students to present their projects to an audience and a panel of judges. 
"The summer research scholarships are always a beneficial experience for students to work on real commercial projects and we are grateful for the time and effort offered by our external partners to enable students to get involved in such interesting research," said Heather.
Other Toi Ohomai students presenting at the Summer Scholarship Snapshot event:
Chontelle Hohaia
Bachelor of Creative Industries, majoring in graphic design 
Project: Creative Multicultural Mapping
Lynette Fisher 
Graduate Bachelor of Creative Industries, majoring in visual arts
Project: The People's Gallery – toi ka rere
Nicholas Dickinson 
Graduate L6 Diploma in software development
Project: A Student Journey into Agile and Laravel with Fruitbytes
Kessla Raimona 
Bachelor of Applied Social Science
Project: Social Work Student Enrichment Project
Kathy Brown 
Bachelor of Community Health
Project: "I don't know what would help me": supporting smoking cessation at Vincent House Recovery Trust
Sascha Martin (presented by Jeni Fountain)
NZ Diploma in Business L.6
Project: New Zealand Society of Conveyancers Strategic Plan: 2018 Beyond
Sahil Chahal
Graduate Bachelor of Computing, Communications and Technology majoring in Multimedia and Web.
Project: Predicting Offshore Quality Check Assessment of Exported Kiwifruit
Viraj Dharamshi 
Postgraduate Diploma in Management
Project: Analysis of Future Focused Learning Program
Daisy Church 
Diploma in Marine Studies L.6
Project: Photo acclimation of Ecklonia radiata in Tauranga Harbour, Bay of Plenty, New Zealand
Photo caption: Jacob Van Silfhout (right), with Sam Gough, about to activate the sprinkler system at Toi Ohomai's Windermere horticulture department, via his mobile phone.