Engineering Skills Put to Test in Summer Design Project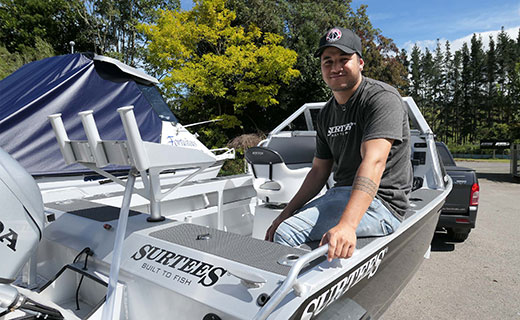 Friday, 13 Apr 2018
Before December, Toi Ohomai engineering student Mandela Petersen knew very little about boats. Ask him now about component weights, pivot points and gravity points and he could rattle off enough figures and equations to leave most of us baffled.
Mandela has recently completed a research voucher project with Surtees Boats near Whakatane. He was tasked with studying the weight and balance of the company's existing vessel range. The work has assisted Surtees to deepen its design knowledge in the manufacture of high performing boats, aimed primarily at fishing enthusiasts. 
Initially Mandela conducted a full weight study on the most popular models manufactured by Surtees. 
"Measuring and weighing the different components was a critical part of the project so I could model them in CAD and work out the centre of gravity and balance points of each part," he said. "By building the boat on screen I could then experiment by shifting weights and different aspects to see how it would trim in the water."
Surtees engineer Garry Jolliffe said as more and more customers choose to install extra fishing equipment – which can add up to 150kg to a 5-7 meter boat – the information is critical to understand how extra weight impacts a boat's performance. 
"Getting the balance right between weight and trim is one of the most critical things in boat design," he said. "If the balance of the boat is wrong, this can greatly reduce the ride quality. So, as we continue to increase the list of equipment fitted to our designs, Mandela's work will help to ensure the boats continue to trim nicely and perform well with added weight. 
"CAD software has come a long way and young people going through engineering courses are clued up in how to use it. Mandela has done an excellent job in helping us to move forward with our designs."
The company was founded in 1993 by Neil Surtees, who designed and built a boat with a deep V-shaped hull that could easily and smoothly get across the Whakatane bar on a rough day. He also developed a water ballast stability system to lower the centre of gravity when the boat was at rest. His designs have produced high performance boats which are in demand both in New Zealand and internationally. 
Now back at Toi Ohomai's Tauranga campus to complete his Diploma in Mechanical Engineering, Mandela, 23, said the summer project was an amazing opportunity to put his engineering knowledge and CAD design skills into practice in a commercial application. 
"Up until starting this project, I'd never had any experience or knowledge about boats but have learnt so much. I'm really grateful I'll be able to take these skills into a range of industries so I'm excited for what the future holds. I also want to complete a Bachelor of Engineering degree."
In the meantime, Mandela's work will soon be put to the test when they check whether the on screen boat model lines up with what actually happens on water. He's quietly confident, but regardless of the results, he has already decided boats will play a much bigger role in his life.
"I now have a dream to design and own a boat someday, so I've been trying to soak in as much information as I can."
Toi Ohomai head of research Dr Heather Hamerton said the Toi Ohomai research vouchers provide an excellent opportunity for employees and students to engage with industry, iwi and community groups and assist with knowledge transfer through applied research and development activities, up to a maximum value of $5000. Further information about these vouchers is available at https://toiohomai.ac.nz/about/our-research/research-voucher-scheme
Photo caption: Toi Ohomai engineering student Mandela Petersen has spent his Summer break on a design project at Surtees Boats near Whakatane.