Bridging The Gap For People With Diverse Learning Needs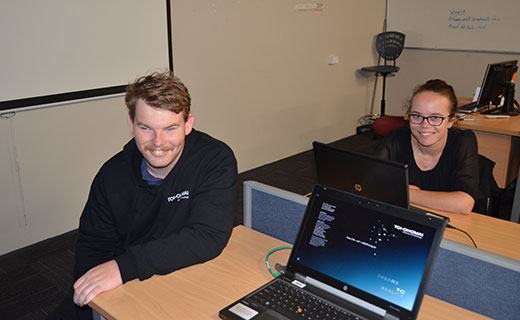 Friday, 01 Jun 2018
A free computing course at Toi Ohomai Institute of  Technology is opening doors for people with learning difficulties, disabilities and mental health challenges. A new flexi-delivery format of the popular 12-week course is aiming to give students with diverse learning needs more confidence with technology and a better pathway into employment or further study.
Kaiako/Teacher Suzanne Hart says this is the first time that Toi Ohomai has offered this Level 2 course for learners with diverse learning needs and disabilities. 
"One of the things I noticed as a teacher of people with disabilities, was a lack of tertiary study options after Level 1. A lot of learners with a disability have tried to do tertiary level study and haven't coped. Others want more confidence and skills to enable them to get into the workplace."
One of the students in Suzanne's class is 21-year old Amber Barker. Amber wants to pursue a career in business administration but, when she attempted to study in this area, she struggled with the pressure of tertiary level study.
"I thought if I gave this course a try first, I could go back and try the business admin one again. I've learned a lot of short cuts so far in this course, and once I've finished it I'd like to go back and try again."
Another student in the class is Daniel Cox (26). Daniel has his own DJ business, DJ Spin Entertainment Services, and is utilising the course to help him run the financial side of his start-up.
"Google Sheets is helping me the most," he said.
"When I found out about the course I thought 'I have a business mind, I have to do this.' I don't want to be sitting at home thinking 'what can I do?'"
Suzanne said the class is very diverse:
"Some students are already good with technology but take more time to process information, while other students only have basic experience with computers. With this in mind, we ensure that the material, delivery and teaching pace is inclusive and tailored to meet the diverse learning needs of all our students."
Suzanne said the course is meeting a real need and highlights Toi Ohomai's desire to see all members of the community succeed.
"One of my students has started work since coming onto the course and another has an offer of employment. The rest are looking at further study and I am working to find pathways for them."
Learn more about the New Zealand Certificate in Computing (User Fundamentals) (Level 2).