Awards to Empower Women, Communities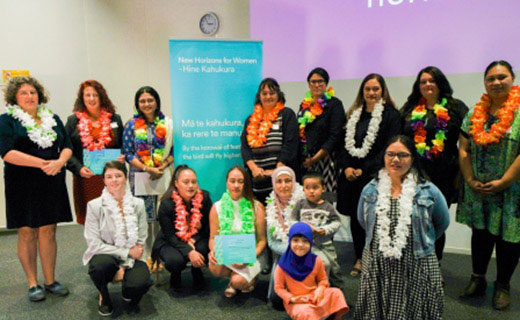 Thursday, 04 Apr 2019
A trust set up to inspire women to create new horizons and realise their potential is looking for more applications to one or more scholarships valued from $1,000 to $15,000.
The New Horizons for Women Trust: Hine Kahukura Awards applications are open now and will close at 5pm on Sunday, 14 April. Applicants may apply for more than one award.
Trust Manager Taone O'Regan says the awards recognise women who are studying and working to achieve, not just for themselves but for the good of their families, communities and society.
"Most of the awards are for women who are returning to study later in life and recognise the extra responsibilities and costs women have when studying when they are older. Other awards prioritise women entering careers and study where women are under-represented. Some awards support women undertaking research and projects that benefits women and girls in Aotearoa New Zealand.
"Women who return to study and work inspire us all and most importantly inspire their children, families and whānau."
She says women who have received the awards in the past have appreciated the boost to their confidence and having their efforts valued.
"They also describe the difference it made in paying to get the car fixed so they could travel to course safely, cover childcare when they were on placement, buy the laptop that enabled them to work at home rather than staying at university late, and paying the rent. 
"The awards can be used for living and study costs – whatever it takes to support you while studying."
Taone says with a substantial pool of funds to give out, the trust is hoping to get as many applications as possible, and the process of applying is easy.
"It doesn't take long. You need to write about your study, personal and financial circumstances and attach evidence of residency, enrolment and academic results.
"The trust realises study can be a step-by-step and long journey for some.
We really welcome applications from women starting that journey with foundation certificate and diploma courses, and those who are older."
The awards are supported by Toi Ohomai Institute of Technology. Head of Marketing and Communcations Jess Barnett said the institute gave $20,000 raised from its 2018 Charity Golf Day to the trust because of its commitment to uplifting women and communities.
"We have worked with the New Horizons for Women Trust to create scholarships in our name for Bay of Plenty and South Waikato applicants. 
"Working with the trust provides us with a great opportunity to show the institutes commitment to the United Nations Women's Empowerment Principals and to give back to a charitable organisation that has a proven background with strong support networks."
Jess says last year's successful Charity Golf Day was the inaugural event and was attended by stakeholders and staff from across the Bay of Plenty.