Art degree graduate, Caigan Biddle goes manga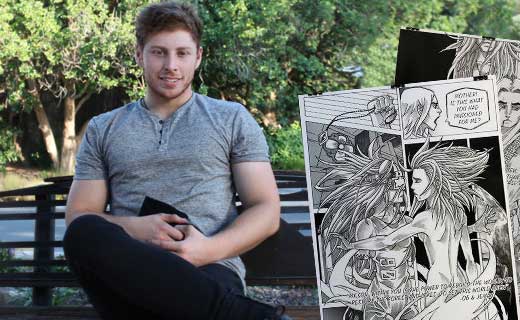 Tuesday, 10 Jan 2017
"When I was younger, my family wanted me to get a trade. Instead I just kept drawing and showing them that I have what it takes to draw professionally."
Whakatane based illustrator, Caigan Biddle is drawing a line. The Bachelor of Creative Technologies graduate wowed audiences with his manga works within last year's Toi Ohomai graduate exhibition in Rotorua. He now seeks to not only extend his craft, but to grow awareness and appreciation for this revered Japanese style of graphic novels.
"Manga is a hard medium to work in, as the devotion needed is different to other art forms," he says.
"A professional painter can chose when to paint their image, but a professional manga artist has to work all-day every-day on their publication, creatively crafting a series of images to tell an interesting story.
"It takes every ounce of your attention and energy to make, not to mention experience and practice to draw."
Introduced to manga at a young age through the Dragonball Z TV show, Caigan would draw its stars Goku and Vegeta with his friends and make up his own stories. Years later, it was another anime show, Naruto that inspired the artist to take the genre seriously and bring his own characters to life by enrolling at Toi Ohomai.
"The process of making my finalised manga pages for exhibition last year pushed me to my limit, and I loved every moment of it.
"In an exhibition of paintings, your painting can get lost, yet with the diversity of artwork in our exhibition, everyone's work was able to thrive.
"My work was about a lot of things, but the main theme was about how there are no heroes and villains, as we all live in a 'grey' area with good and bad traits."
With his family supportive of his success, Caigan is already working on collaborative artistic projects with his friends.
Setting his sights post-graduation on creating his own YouTube channel, strengthening his manga skills and self-publishing his own work, he advises any other manga fans looking to step into the same arena to start practising now.
"Manga is amazing. It is a very demanding art form, but what you get out of it is worth it. I read through my old stories and feel happy seeing how far I've come – and If it makes you happy, go for it!"