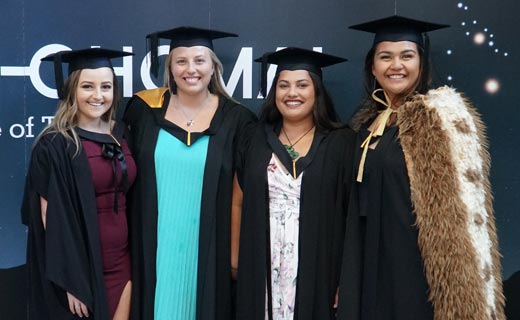 Graduation (Rotorua Ceremonies) - Diploma, Degree and Postgraduate Qualifcations (POSTPONED)
When: Monday, 06 Apr 2020, 10.00am
Duration: 8 hours
Where:

Rotorua

Venue:

Energy Events Centre, Queens Drive, Rotorua
Update:
The health and safety of our staff and students is an absolute priority, so due to the evolving nature of the COVID-19 situation, it's with a heavy heart that we've made the decision to postpone our upcoming April graduation ceremonies. 
We know that this will be disappointing news for many of our students and their whānau who were looking forward to celebrating and sharing in the incredible achievements of their loved ones. Equally, we understand the pride and fulfilment we all share in when watching our students graduate, as we all play a part in their success.  
This decision was not taken lightly and reflects the emerging position of recent Government announcements, including those from the Ministry of Education.   
If you have any questions or to find out key information, visit our Graduation Information page. 
 
It's everyone's favourite time of year!
Graduation is a formal ceremony that recognises our students' effort, commitment and achievements during their studies, and it's something we all look forward to. Students who walk across the stage at graduation have shown immense passion, grit and determination on their journey towards a better education.
Ceremony 1 - 10.00am
Faculty of Health, Education and Environment  
Animal Management
Applied Professional Studies
Education
Health
Marine and Environment
Nursing
Social Services
Sport and Fitness
Student Engagement
Study and Career Progression
Te Kura Maori
Faculty of Primary, Trades and Infrastructure
Automotive
Carpentry
Construction Technology
Electrotechnology
Forestry
Horticulture and Agriculture
Maritime
Transport and Logistics
Wood Manufacturing 
Ceremony 2 - 1.00pm
Faculty of Business, Design and Service Industries 
Creative
Music
Hair and Beauty
Hospitality
Applied Information Technology
Web Design and Development
Networking and Technical Support
Software Development
Cyber Security
Tourism
Ceremony 3 - 4.00pm
Faculty of Business, Design and Service Industries 
Business
Applied Management 
Management