Gaylene and Manly Edwards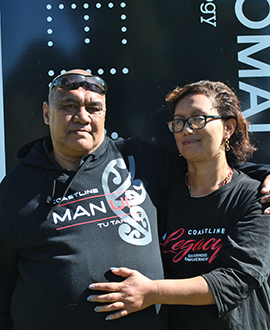 Rebuilding on Strong Foundations
Manly Edwards has finally earned his driver's licence at the ripe age of 57 and is getting set for a new career, thanks to a Toi Ohomai Institute of Technology course which gave him and his wife, Gaylene, the kick start they desperately needed. 
Manly admits the couple were doing nothing, spending most of their time watching television, before they enrolled on the New Zealand Certificate in Foundation Skills (Level 2) course.
Manly had spent 40 years working in forestry, but his career had been cut short by paralysis when he was diagnosed with Lewy Body Disease. He spent the next three years collecting an invalid's benefit as a lifetime of self-esteem issues boiled over and he took out his frustrations on his family.   
Meanwhile Gaylene was approaching her fiftieth birthday and, having spent many years raising the couple's seven children, she wanted to set new goals. She encouraged Manly to join her on the free 19-week foundation skills course to open up their learning and career options.
They started travelling from Whakatāne to Rotorua to attend classes, joining other students who were far younger than themselves. It was the first time anyone in their household had taken on tertiary study and Manly and Gaylene had a lot to learn.
Manly couldn't spell and could only just read. He'd always been ashamed of his lack of literacy and the way it had held him back from even relatively simple tasks like passing his driver's licence:  "I was too shy to do things because I thought I was a failure."
He had no idea where the course would lead him, but he was soon inspired by his tutors and the mutual respect that developed during the couple's interactions with their younger classmates.
"We both loved it, it was just what we needed. I got a lot of confidence out of it; it got my brain going. It made me a better person and showed that there's more to life. I wanted to restart my life, and that's exactly what happened. I bump into people in Whakatāne and they know how I used to be – they can see a huge difference now," Manly says.
The foundation skills course taught Manly how to use a computer and helped him discover a passion for car mechanics. His improved attitude also helped him focus on managing his illness and completing his rehabilitation exercises so that his body could start functioning normally again.
Gaylene is now studying the New Zealand Certificate in Retail (Level 3) course at Toi Ohomai's Whakatāne campus, while Manly waits for the New Zealand Certificate in Automotive Engineering (Level 3) course to start at the campus early next year. 
Their journey has inspired their sixth child Bronson, aged 16, who is now also studying the foundation skills course at the same campus.
"There's no point just watching TV and waiting for a miracle, you've got to go out there and do it. This has been a big step for both of us," says Manly.
"I so love my educational journey, and one day will be working for me and my family," says Gaylene. "I'm so proud of my commitment and potential, to keep going and make my dream a reality."
 
Find out more about this subject