Toi Ohomai Shouts Free Lunch in Rotorua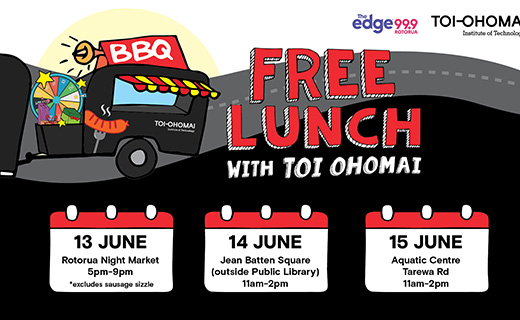 Wednesday, 12 Jun 2019
They say there's no such thing as a free lunch, but that's not quite true at Toi Ohomai Institute of Technology.
In a bid to strengthen connections with the Rotorua community, the institute is hosting the Free Lunch With Toi Ohomai series of events over three days starting at the Rotorua Night markets.
Toi Ohomai event staff will be at the markets with spot prizes and merchandise to give away. The Edge radio station will also be on hand with Winning Wheel where people can spin and claim petrol vouchers, supermarket vouchers and other prizes. 
They will put on two further events and, as well as the giveaways and winning wheel, these will include a free sausage sizzle. On Friday, from 11am to 2pm, the team will be at Jean Batten Square, outside the library, and the Rotorua Aquatic Centre on Saturday ,from 11am to 2pm.
Toi Ohomai was created in 2017 when Waiariki Institute of Technology in Rotorua and Bay of Plenty Polytechnic in Tauranga merged to create the new organisation.
Marketing Manager Alex Williams says the free lunch events are being held to grow the institute's connection with the Rotorua community.
"We're committed to being a valuable and meaningful part of our community, and this event is simply a small chance for us to brighten up people's day.
"It's a great opportunity to share some food, have some fun and give away some prizes in the central business district before our courses kick off again in June.  We're really excited to be bringing this free pop-up event to our Rotorua community."
More information - Date and Location: 
•    Thursday 13 June 5pm-9pm – Rotorua Night Markets 
1196-1202 Tutanekai St, Rotorua
•    Friday 14 June 11am-2pm – Jean Batten Square (outside the library) 
1127 Haupapa St, Rotorua
•    Saturday 15 June 11am-2pm – Rotorua Aquatic Centre 
18 Tarewa Rd, Rotorua