New Generation of Speakers to Take Flight at Toi Ohomai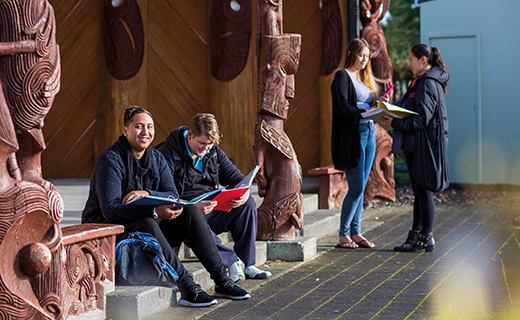 Tuesday, 04 Jun 2019
Two hundred secondary school students are set to descend on Toi Ohomai Institute of Technology's Mokoia Campus this week to participate in and support a competition for speech-making supremacy.
The annual Te Arawa Regional Manu Kōrero contest will be held at the institute, a sponsor of the event, today (Wednesday). The competition will involve four sections – Tā Turi Kara - junior English, Rāwhiti Ihaka - junior Māori, Korimako - senior English and Pei Te Hurinui - senior Māori.
Students will choose to speak on a topic from a range of different categories including te reo me ōna tikanga, education, whānau - aspects of Māori life and culture. A panel will judge their discourses and the winners will go on to represent the Te Arawa region at the Ngā Manu Kōrero 2019 National School Speech Contest in Palmerston North in September. 
The chairperson of the organising committee, Te Arawa Pouako i te Reo, Rie Morris says there are several benefits to participating in Manu Kōrero.
She says while there is no single overarching theme this year, encouraging Te Arawatanga – or being proud to belong to Te Arawa – is always a key objective of the event.
"The contest is a celebration and acknowledgement of our rangatahi (young people) from secondary schools within the region of Te Arawa. Some are chosen speakers, and orators for and of their respective schools, representing their iwi, hapū, marae and whānau.
"It's a space in which our culture, people and language thrive, a kaupapa (subject) where we build on and form relationships, or whakawhānaunga, with other kura and people from our rohe. And, it's an occasion where we get to feel proud of who we are and what taonga (gifts) we have."    
Rie says the competitors' speeches will be judged on a range of criteria.
"In my opinion, a 'good speech' is one that is captivating, humorous, relatable, personal and informative. A 'good' speaker is one who is confident, well-rehearsed, engaging, convincing, and has heart."
Toi Ohomai Head of Marketing Jess Barnett says the institute decided to sponsor the event because it's an excellent opportunity to support rangatahi at an important event for Te Arawa
"We love seeing secondary school students on campus and having the opportunity to contribute to the development of skills and confidence of Māori students."
Toi Ohomai Head of Māori Success Kelly-Anne Panapa says Toi Ohomai is committed to supporting initiatives that value and normalise te reo Māori and that contribute to Māori flourishing in our region.