Health pathways for Māori by Māori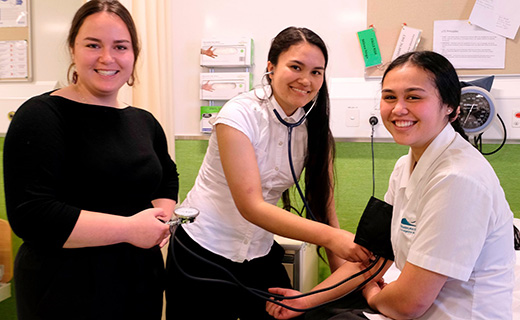 Friday, 16 Aug 2019
Toi Ohomai Institute of Technology and Kia Ora Hauora are building study and career pathways to help address the poor health outcomes for Māori living in the central North Island region.
The region has some of the country's worst Māori health statistics and until earlier this year, anyone wanting to start a clinical career in health had to move to out of the area to do so. In June, however Toi Ohomai introduced the Diploma in Health Science, which is the academic equivalent of completing year one of a Bachelor of Health Science degree.
Toi Ohomai Programme Manager - Health Maria Ngawati says the new qualification removes a huge barrier for students by allowing them to stay in the region and be able to study.
"As a result, they don't have the expense or upheaval of relocating while they make the transition to higher learning. To achieve better health outcomes for Māori, the Māori health workforce in the region needs to be locally grown. The regions must be empowered to grow their own, because ultimately those are the people that love the communities that they live to serve. 
"These initiatives seek to address our dire Māori health outcomes, because as the research shows, if your workforce reflects your population – the outcomes are more positive overall."
To support the diploma Toi Ohomai has also developed two courses through the Secondary Tertiary Programme, called Tikanga Hauora aimed at Year 12 students and the Oranga Tangata for those in Year 13. The courses prepares students and gives them priority to enter the diploma course and are delivered in Te Reo Māori in the region's Kura Kaupapa and Kura-a-Iwi, as well as bilingually for mainstream school students, under the umbrella of the Trades Academy provision for Toi Ohomai. 
Currently, 28 Māori students across Year 12 and Year 13 are engaged in the programmes with many expected to begin the diploma next year. Maria says Toi Ohomai is also talking to universities about diploma graduates gaining entrance into clinical and non-clinical pathways when they choose to further their studies.
"It makes us quite unique as we're the first polytechnic to offer this. We're creating a seamless pipeline for health workforce outcomes, so it's great to be working with Kia Ora Hauora and hosting the inaugural Hauora Kura Pathway event." 
Set to take place in Rotorua on Wednesday, 14 August 2019, Hauora Kura Pathway is aimed at Māori rangatahi interested in pursuing a career in health. It is the first event of its kind to be held in Rotorua and the Lakes District Health Board region. Students already enrolled on a health programme at Toi Ohomai will also attend and Lakes DHB Māori Health professionals will help support the day.
"The main focus is to give Māori rangatahi a taste of the health sector and get them thinking about career pathways and the subjects they need to study to achieve their goals," 
Kia Ora Hauora is a national Māori workforce development programme which aims to increase the number of Māori working in the New Zealand health sector.
Pou Manukura Kia Ora Hauora Midland Programme Facilitator Lianne Kohere says the number of Māori working in the health sector needs to increase significantly to meet the needs of the nation's rapidly changing population and demographics.
"It's great to be able to support the work Toi Ohomai is doing to create greater opportunities in this region for more Māori to enter the health sector. Equity in the Māori health workforce, whether they enter clinical roles such as doctors and nurses or non-clinical roles such as administrative support or health promoter, will ultimately help to improve Māori health outcomes. An event like Hauora Kura Pathway is really important to help address the barriers and gaps Māori face in the health sector and the schooling system."
Rangatahi from years 11, 12 and 13 will be welcomed to Toi Ohomai before starting a full day of interactive activities introducing them to different aspects of the health sector. Activities will include a hands-on introduction to CPR, a session with student doctors using stethoscopes and learning about knee reflexology, alongside a clinical pharmacist focused on medications. They will also engage with physiotherapists and occupational therapists as well as tour an ambulance and a mobile dental van where they'll learn about oral health. 
"It's very exciting for Māori to be working with Māori and creating innovative solutions to Māori health issues. Collectively we all have a part to play in solving the endemic Māori health issues in Aotearoa by focussing attention on recruiting, retaining and revitalising the Māori health workforce," says Lianne.