Keith Gregor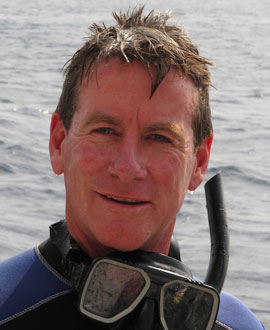 Research Leader and Programme Coordinator
Faculty of Health, Education and Environment
I coordinate the learning programme for year two of the marine strand of the Toi Ohomai Environmental course and teach across all three years of the course, with particular emphasis on marine ecology and monitoring.
I believe strongly in the importance of linking research with teaching and encourage staff to fuel their research, which they can then feed back into their classes.
I have broad research interests myself, and have been working long-term on the island of Tūhua to gauge the recovery trajectories of key indicator species after protection from fishing following the introduction of the no-take marine reserve.
Having been brought up in Fiji, I still enjoy escaping the New Zealand winter and have developed expertise in coral reef ecology. In line with this, I'm part of a team which takes second year students to dive in remote locations in Papua New Guinea each year.
I've also completed social science research when I examined the effects of extended field trips on student perceptions and outcomes.
The marine and environmental undergraduate course at Toi Ohomai remains unique in that after 25 years it still provides strong practical elements that reinforce the academic rigour of the course.
These elements are demonstrated in our extended field in spectacular locations ranging from offshore islands in the Bay of Plenty to remote parts of Papua New Guinea.
Outside of work you'll find me surfing, mountain biking, scuba diving, snorkelling and travelling.